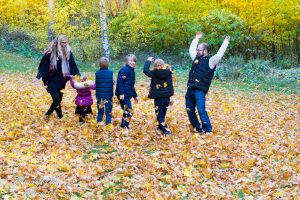 On a very crisp, clear and cold Autumn morning I had the pleasure of photographing my very first family photo session for my new company!
A great, energetic family with mamma, pappa and four siblings.
The children had a wonderful time climbing trees and running around and playing in the incredibly vibrant Autumn leaves. There were literally seas of leaves to roll around in and throw up in the air. A childs dream!
Mamma and Pappa had a few special moments together with the comment that they hadn't had photos like this since their wedding day! They chatted and laughed together and their deep love for each other was clearly evident in their photos.
It was a perfect Autumn morning in beautiful Sweden!
The family drove away with a car full of smiling children! I was left with a feeling of great uplifting, encouragement and pure joy. What a wonderful career I have been blessed with!
Families review of the session- "We had been longing to take a family photograph for ages, but were hesitant because knew what a hassle it would be with four children. When Felicity proposed to take some photographs we decided to give it a try – and we were so glad we did! We met Felicity on a sunny, autumn morning in the gorgeous surroundings of a beautiful church in the countryside. We were deeply impressed by her feeling choice of poses and her amazing way of handling children! The pictures Felicity took really struck us! She managed to catch genuine emotions with marvelous depth and fantastic colours. Felicity gave us a stunning album full of wonderful memories – more than we could dream of!"